Now I've been a avid mechmod fan my whole life, started with a Twisp Clearo, then moves up to a variable voltage battery, then got my first 15w Innokin SVD.
Now as awesome as the SVD was for back in the day I immediately picked up on the rattle snake sound when firing my device. This you normally got with variable wattage devices. Basically the device pulses the voltage according to the resistance its picking up to keep a steady wattage and the voltage output will jump up or down according to the resistance fluctuation on the coils.
So I take it when measuring the voltage output the voltage printout will look sort of like a heart beat going up and down.
Then enter the mech mod!! This was an absolute mind blowing concept for me, a steel tube with a replaceable battery that will fire basically anything you put on there called the Nemesis. Now we were very careful back then, we built very close to 1Ohm and if your coils measured under 1Ohm you quickly take it off and rebuilt the coils again. Now we were running Sony Vtc4 batteries then and we didn't know how far we could push it but I just got a completely smooth vape from this mech.
Then I got my Hana mods 30w device which also did it but with a lot more control, the rattle snake was way less and the overall vape was much smoother but that bit of harshness was still present but way less, but we stuck to regulated cause we could push much more power and can build way lower than a mech. Well so we thought.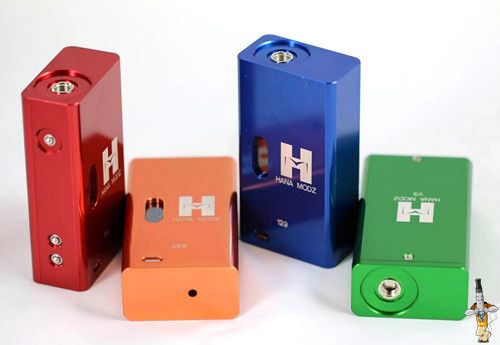 Couple of years later Im pushing 0.08ohms on a mech on basically the same batteries we used back then and regulated wattage mods are competing with regulated voltage mods. So regulated voltage mods have taken that smooth vape from a mech and pushed the output much higher than a single 18650 mech. You can build whatever resistance you want and regulate it with a potentiometer to a certain power but get that non jumping voltage smooth vape.
Now a big seller these days are the Voopoo Drag mods, they go up to 157w but most of the people I know of are using them mostly in either mech mode or voltage mode bringing the regulated mod back to that mech type vape again.
So Im not saying regulated is bad, not at all! In comes the DNA mods, Evolve designed the chip to lock the resistance in place, now that the resistance cant jump at all the voltage output stays very stable bringing us back to that straight voltage output again.
So I like a smooth vape. I get my smooth vape from my mechs.
Now Im no expert in this category, I have no measurement tools or any meters to check this, but I vape, I vape a lot, I have vaped a lot of different mods on the market and this is how my mind process this.